Prices and offers
Price list 2022/2023
St. Peter
St. Hippolyt
St. Magdalena
Summer:
19.06. - 05.11.2022
Euro: 120,00
Euro: 125,00
Euro: 115,00
Autumn:
06.11. - 26.11.2022
Euro: 90,00
Euro: 95,00
Euro: 80,00
Christmas :
02.12. - 06.01.2023
Euro: 130,00
Euro: 130,00
Euro: 115.00
winter:
07.01. - 28.02.2023
Euro: 100,00
Euro: 105,00
Euro: 95,00
Springtime:
01.03. - 31.03.2023
Euro: 105,00
Euro:110,00
Euro: 100,00
Easter:
01.04. - 15.04.2023
Euro: 120,00
Euro: 125,00
Euro: 105,00
Springtime:
16.04. - 19.05.2023
Euro: 110,00
Euro: 115,00
Euro: 105,00
Pentecost:
20.05. - 09.06.2023
Euro: 125,00
Euro: 130,00
Euro: 120,00
Summer:
10.06. - 05.11.2023
Euro: 135,00
Euro: 140,00
Euro: 130,00
- The listed prices are per day based on double occupancy and a minimum stay of 4 nights.
- under four nights we charge a surcharge of 50,00 Euro.
- Any additional person over the age of 12 years will be charged 20,00 Euro per day, children older than three who have not yet reached their 14th birthday will be charged 15,00 Euro. Children under 3 years of age pay 5,00 Euro per day.
General Information
our incluse Services: bed linen, towels and the final cleaning the MeranCard (15.10.2022 - 30.06.2023 ) free WIFI and bread Service.Local tax 2022: 1,55 Euro per person per day for those aged 14 and over.


Payment in advance by wire transfer or cash on site.

The reservation for your holiday flat is binding.

Pets are not allowed.

Smoking is not allowed in our holiday flats.

Depending on availability: Children's foldable travel bed, high chair, buggy/stroller, changing mat

Bed linens, towels and dish towels are available.

Arrival: the flat is ready at 3 pm.

Departure: on the day of departure we would ask you to clear the flat by 9,30 o'clock

Minimum stay: 4 nights

We recommend that you purchase travel cancellation insurance:
Cancellation policy:
• Up until 3 months before arrival you can cancel with no penalty
• From 3 months to 4 weeks before arrival, we charge you 3 days of the total cost.
• From 4 weeks to 1 week before arrival, we charge you 70 % of the total cost and 1 week before arrival the total cost.
• In the case of early departure or delayed arrival we reserve the right to charge the total cost.

Travel cancellation insurance: We strongly recommend taking out travel cancellation insurance.

Mandatory information according to the EU-Regulation N. 524/2013 of the European Parliament and of the Council
Platform for online dispute resolution for consumer disputes (ODR) to the European Commission: https://ec.europa.eu/consumers/odr/
Our exclusive gift for you: MeranCard
When staying at the Neuhauserhof, you will receive the GuestCard (all year round) and MeranCard (15.10. - 30.06) as a complimentary gift for the nightly rate.

What is the MeranCard?
The MeranCard includes a number of services:
• Use of all public transportation throughout South Tyrol
• Rides on public cable cars in South Tyrol, which include the cable cars to Renon/Ritten, San Genesio/Jenesien, Maranza/Meransen, Meltina/Mölten, Colle/Kohlern and Verano/Vöran as well as the the narrow-gauge railway on the Ritten Mountain and the cable railway up to the Mendel Mountain. Private cable cars are not included.
• One-time entrance to more than 90 museums in South Tyrol
• 10% discount on bike and ski rentals at "Papin Sport" and "Sportservice Erwin Stricker" rental stations

Request an offer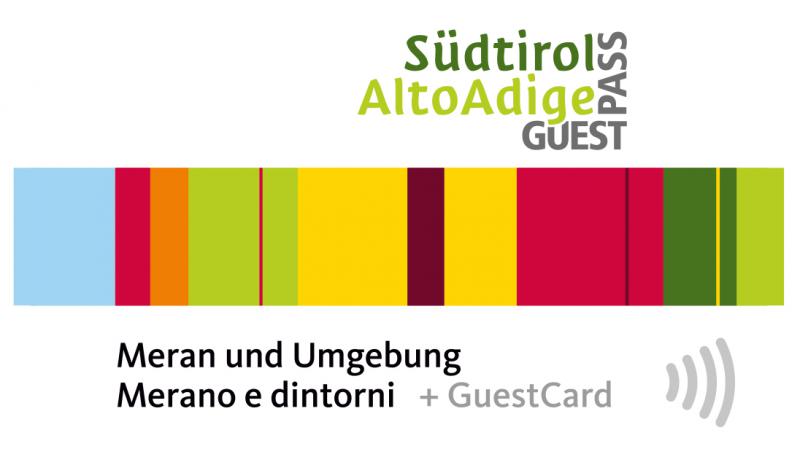 The special offer for our guests
Free entry to the panoramic outdoor pool of Scena!
Request an offer
On hot summer days or after a challenging hike the outdoor pool Schenna offers the ideal refreshment. As our guest, you are granted free entrance to the Schenna outdoor-pool during your summer holiday.